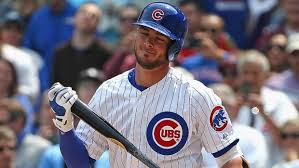 Kris Bryant, Chicago Cubs star prospect and third basemen, will make his Major League Baseball debut. He is probably in the batter's box while I'm writing this article. The kid has got a buzz about him that has rivaled the likes of Giancarlo Stanton, Mike Trout and Bryce Harper. His star has shined so bright that he is becoming a legend in the making.
Wow is that early, everybody wants to anoint this kid the next big thing and he hasn't done a thing yet. Don't get me wrong his peripherals are off the charts. He is 6-5 mammoth with power and plays at third, which is also a plus.
The Chicago cubs who are owners of plethora of young talent can add one more to the bucket. Just to name a few we'll start with Starlin Castro, shortstop.
They have Cuban defector Jorge Soler, outfielder. First baseman, Anthony Rizzo, and now stud third baseman Kris Bryant. Theo Epstein is putting the Cubbies in position to be great for a very long time. They might lack in the pitching department, but veteran Jon Lester, who Epstein knows from his Boston years, is a good stepping stone to greatness in the short term.
The Chicago Cubs had to wait an additional two weeks after opening day to call up Bryant. They gain one more year of control over Kris Bryant by doing so. Now that, that time is up he has been called up to play third base and bat cleanup in the lineup. As of right now he's gone 0-3 with three strikeouts. With all power hitter the strikeouts will be problem, but I don't believe the Cubbies will complain if he comes in this year and hits 25 homers. They will be patient with him trough his growing pains.
Pay per heads have pegged the Chicago Cubs at 25/1. They have a chance to out play those odds and make it in. If they do come out strong and have a shot at the playoffs, they might become buyers at the trade deadline and with their young players can swing a mega deal to better their odds. That would not be out of the question Theo Epstein is an aggressive general manager, and would like to show everybody that Boston wasn't a fluke. He's got the Cubs on the right track and that speak volumes.