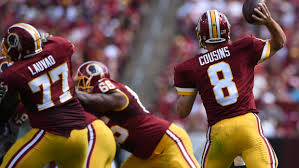 The writing has been on the wall for some time now; Kirk Cousins will be the Washington Redskins starting quarterback when the season starts. These were the words spoken by Jay Gruden on Monday. ESPN reported that the players had already been informed of the switch when they squared off in the season opener against the Miami Dolphins. Gruden has also expressed to the team that Cousins would be the quarterback beyond week 1, saying that the Redskins are "Kirk's team". Pay Per Head Sportsbook holds the Redskins at 125/1.
Obviously this decision is a huge one amid turmoil surrounding RG III.
Ownership has been the ones resisting the change although the coaches have long ago wanted to make the switch. Gruden did say that the door wasn't shut on Griffin, "Robert is a pro," Gruden said. "We have a lot of respect for what he's accomplished here. … He's done some great things."
Gruden also commended RGIII on the tremendous work he's put in this preseason. "Really, this is about Kirk doing an excellent job and winning the job," Gruden said. "Robert is disappointed, as I'm sure Colt [McCoy] is disappointed". "I think all three quarterbacks should be commended for their efforts, their willingness to get better. But when it's all said and done … we feel like at this time, Kirk Cousins gives us the best chance to win."
Gruden added that Cousins "has taken a giant leap" since being benched in Week 7 of 2014 after committing 11 turnovers in five games. "There's something powerful about feeling believed in, and something powerful about knowing where you stand," Cousins said.
Cousins also praised Griffin for the example and leadership he has provided.
"I can't say enough about the class act Robert has been from the day I was drafted to now," said Cousins, who was picked in the fourth round of the 2012 draft. "The way he has treated me, the way he has handled a lot of adversity — I have marveled at his ability as a rookie to never flinch, to compete as a young player in this league and win Rookie of the Year and taking our team to the playoffs and winning the division. I marveled at that.
"The way that he is a fierce competitor, I've always respected. He has always been a guy who remains classy, works very, very hard, and I've learned from that example."