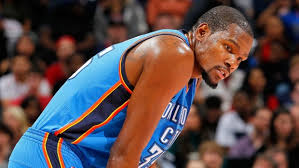 Oh no, Thunder General Manager Sam Presti held a press conference on Friday. He announces that Kevin Durant has been "removed from all basketball activities" and he will be "out indefinitely." Durant has been a poster boy for health throughout his career. This year it's a different story though. He has missed 45 games and counting this season. Presti has mentioned that until Durant is able to come back on the court without experiencing soreness, he will remain sidelined and, also mentioned a shutdown can be in the books, even if that takes the rest of the regular season and playoffs.
The Oklahoma City Thunder is in an uphill battle. Ibaka went out last week with knee surgery; timetable is now 4-6 weeks. Kanter pulled up lame two days ago. This brings me to Russell Westbrook. He has also been hit with the injury bug but has come back a ball of fire. The only reason the team is even breathing s because of him.
Live betting service had hard time booking these games before; imagine now that Westbrook is the lone survivor. Posting averages of 27.6 points 7.2 rebounds and 8.4 assist, almost a triple double, what a year. Durant boosts averages of 25.4 points 6.6 rebounds and 4.1 assists. He is missed and the Thunder might not even make it to the playoffs, damn.
The procedure on Durant's foot was the removal a replaced screw in his foot that was not related to the fracture he suffered to begin the season. He did come back midway through the season. He kind of played like he never left, and got shelved again with the soreness.
I think Presti is one of the top three General Managers of the league, but even he is held helpless to the injuries the Thunder have had to endure this season. Upon this news Price per head agents have moved their odds on the Thunder from 8-1 to 20-1. To start the week, Monday Oklahoma City and the San Antonio Spurs held the second best odds in the West, behind Golden State of course.
To shut Durant down is the correct choice, but this could be it for the organizations chance at a title. Durant will become the most talked about free agent on the planet after next season. The Thunder will need their poker face to retain Durant's services, but the kid looks like guy, he might stay.