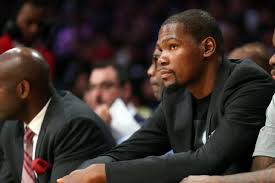 Live betting services learned today that the Oklahoma City Thunder will lose Kevin Durant for the next 4 to 6 months as the 27 year old heads off for bone graft surgery for a fracture in his right foot that happened in October of last year.
So far Durant has missed half the season, even after his fractured foot was deemed ready. He then sprained his ankle, sprained his big toe, had a second foot surgery, and was still having problems in rehab which prompted the bone graft decision.
The team issued a statement:
"Kevin was going to use this time to engage in consultation and evaluation regarding the persistent soreness in his right foot at this stage of his rehabilitation. As part of this process, Kevin and Thunder personnel traveled to two additional specialists this past week; Dr. Martin O'Malley in New York City and Dr. James Nunley at Duke University. These in-person consults were designed to further supplement the previous evaluations of Dr. Bob Anderson."
"Several conference calls and discussions amongst the specialist team concluded that, while the majority of the soreness in Kevin's foot was related to continued inflammation of the cuboid bone and would subside with rest, the evaluation process also determined that the Jones fracture of the fifth metatarsal, which had shown significant healing previously, was now demonstrating signs of regression.
Although the fracture looked to be healing well, the foot and the screw continued to bother Durant which prompted the staff to look for solutions and it was decided that O'Malley will perform the bone graft surgery in New York.
Durant averaged 25.4 points per game, 6.6 rebounds per game and 4.1 assists per game in 27 games this season. Over his career he has played in 569 games averaging 27.3 points per game.
Durant has played small forward for the Thunder since 2007 when they were the Seattle Supersonics. He was voted NBA MVP this year and has been part of the All Star team for the past 5 years.
Live betting services will miss Durant, who has helped to strengthen NBA viewship around the world.