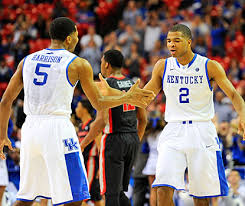 The University of Kentucky may have had one of their best seasons yet, but don't expect all of the team to wait around until next year for another shot at a perfect season. The NCAA Tournament may be over now, but Kentucky had a memorable 39-0 season, losing to Wisconsin in the final four, much to the relief of online sportsbook service.
Kentucky Coach John Calipari met with each individual player to discuss their future, and not rush into any decision just yet.
Freshmen Karl-Anthony Towns and Trey Lyles. junior Willie Cauley-Stein, sophomores Andrew and Aaron Harrison are all leaning heavily to moving to the NBA next year, while freshman Devin Booker and sophomore Dakari Johnson are still thinking it over.
"There's not going to be any brainwashing, forcing, pushing either in or out. I want each kid to make a decision for themselves," Calipari said. "I did tell a couple of the kids that it's a man's league; it's not a child's league. If you're not ready for a man's league, you need to come back."
Online sportsbook service were worried about Kentucky winning the NCAA tournament due to all of the wagers on the team, with Kentucky taking more than all of the other teams combined.
If the team had won many bookmaker software users would have had a losing week.
The players thinking of moving to the NBA next year will have a significant impact on next year's NCAA tournament odds.
Still some players may decide to remain at Kentucky for another year. Last year Cauley-Stein, fellow junior Alex Poythress and the Harrison twins were thought to be done at the school, yet surprised Calipari by returning for another season.
"I hope they surprise me like they did last year," Calipari said.
John Calipari has been the head coach for the University of Kentucky since April 2009 and has an incredible 190-37 overall record. In 2012 he led Kentucky to its eighth NCAA Tournament Championship, and his first.
Saturday's 71-64 loss to Wisconsin was a crushing blow to what had become a fairy tale run through the 2014-2015 season.