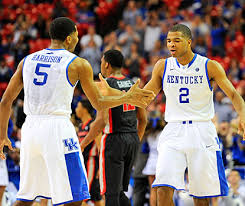 On Tuesday night, the undefeated Kentucky Wildcats are set to face the Georgia Bulldogs at the Rupp Arena in what many fans and pay per head bookies believe will be a very exciting SEC showdown.
On Saturday night, the Wildcats moved on in the SEC to 21-0 and 8-0 after they defeated Alabama at home 70-55, in what was a very exciting matchup. Karl-Anthony Towns and Willie Cauley-Stein were the players leading the team, having scored 12 points apiece. In the win, 11 points were scored by Devin Booker and 10 by Aaron Harrison.
The Wildcats have Aaron Harrison as their top scorer, with the player having an average of 11.5 PPG. The only other player for the team who has an average in the double figures is Booker, with 10.7 PPG.
Georgia won five games in a row, but that streak was broken when the Bulldogs lost 67-50 to South Carolina on Saturday. With 16 points, J.J. Frazier was the one to lead the Bulldogs, as 14 points and 7 rebounds were recorded by Charles Mann.
In the conference, coach Mark Fox and the Bulldogs are now 5-3, as well as 14-6 overall. At this point in the season, Georgia are right in the bubble of the NCAA Tournament, and if they're able to beat the Wildcats, their resume for the tournament could be seriously boosted.
When it comes to their scoring, forward Marcus Thornton is the player leading the Bulldogs, with 13.5 PPG, and at 7.3 per contest in rebounds. Guard Kenny Gaines has an average of 11.7 PPG, while Frazier recorded 11.0 PPG, Nemanja Djurisic had 10.8 PPG, and Mann made 11.3 PPG – all of them in the double figures.
The Bulldogs are not as big as the Wildcats in the college basketball scene, but they can do a very good job when it comes to rebounding, something that could prove to be very important for this upcoming meeting. If Georgia are able to keep Kentucky from getting rebounds on offense, it would be something that would be of great benefit for them in this clash. But many experts believe that the size of the Wildcats will be something that will turn this job into a very tough one. Pay per head bookies believe that in this upcoming matchup, Kentucky should come out undefeated, so it could be wise to go with the Wildcats.