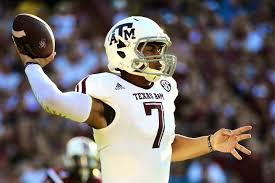 On Friday, Kevin Sumlin, Texas A&M coach, said that Aggies QB Kenny Hill was given his release and is now able to move to any university that he wishes to go to. Live betting services and many fans out there would really like to see where the player might end up at.
"[Kenny] is meeting with his family and figuring out what he wants to do," said Sumlin.
Sources reported that there's a big possibility that the player will go to TCU – the champions of the 12, and many fans would definitely not mind seeing Hill make this switch.
The QB took the place of Johnny Manziel , and went to the front of the early race for the Heisman Trophy with a 511-yard, 3 TD flattening of the South Carolina Tar Heels to kick off the season of 2014.
It wasn't long after this took place when the QB's parents decided to file for a trademark on his "Trill" nickname, which was adopted by Hill after the impressive display that he made.
Texas A&M and Hill kept on marching throughout September, and they mostly beat weaker opposition in the conference and made it to 5-0, getting a ranking of 6th place after the first month of the season.
Things then turned around for the team. The Aggies ended up losing their next three meetings, and out of their last seven, they lost five. When November came around, QB Kyle Allen took the place of the freshman, and live betting services saw that the player was able to lead team to victories against the UL Monroe Warhawks, Auburn Tigers, and West Virginia Mountaineers, to end at 8-5.
When QB Allen stepped up, Hill served a suspension of two games for breaking the policies of the athletic department as well as the rules of the team. However, Texas A&M coaches stressed that Hill's place would have been taken over by Allen even if no rules would have been broken.
An arrest related to alcohol also saw Hill suspended in 2014 for the last part of spring practice.
And many fans could see that for 2014, what Hill recorded – 2,649 yards, 8 interceptions, 23 TD's, and a 67% completion rate –still proved to be extraordinary.
If Hill does go to TCU, the player will have no choice but to sit out during 2015, in compliance with the transfer rule of the NCAA.