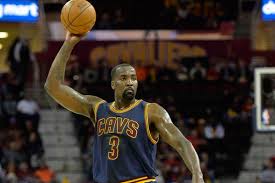 According to the Westlake, Ohio, police department, Cavaliers backup center Kendrick Perkins was involved in a roadside altercation on Wednesday morning. A 911 caller reported that a man and women were fighting by a car parked on the side of the road. When the police officers followed up on the call they found Perkins and his wife Vanity by their SUV.
There was no one injured, arrested or cited, according to the police. The police report will be reviewed and prosecutor will determine whether to file charges. Both Perkins and his wife said it was a verbal altercation, but the 911 calls said she witnessed physical contact.
"There is somebody having an altercation on the side of the road," the caller says in a recording of the 911 dispatch provided to ESPN. "It looks like a woman is hitting the man and he's trying to get out of the car. They're parked on the side of the road.
"It looks like he was trying to get out and the person, who I think was a woman, was trying to pull him back, like grabbing he and pulling him back in [the car]."
Bookmakers Solutions and Price Per Head Services have the Cavs at 3/1 to win the championship. Perkins was given a ride by the police back to his home, and his wife left in the couple's car.
Cavs said that they were aware of the incident. "We have spoken to Kendrick about this and understand he has cooperated fully with the authorities in their review of the situation and will continue to do so," the team said. "We respect the process that the Westlake authorities will undergo in relation to this and have no further commented to make about the situation at this time."
Coach Blatt had similar thoughts about the situation. "We're all aware of the situation," he said after a team film session. "The team put out a statement regarding that. I did speak to Kendrick, but there's really not a whole lot more to say at this point."
Blatt has not addressed the team about the situation but said he would "when and if necessary."
Perkins was previously charged with two counts of assault for allegedly punching a woman and her brother outside a Houston nightclub in July 2013. The charges were dropped in April 2014. Then his wife, Vanity, was involved in an argument with a nail salon technician in Oklahoma City in January 2013; police responded, but both parties declined to press charges.