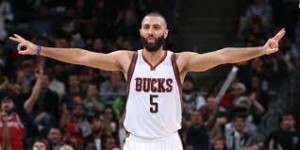 The Bucks are already missing the services of Jabari Parker and Larry Sanders, and online bookmakers saw that on Saturday the Bucks had some more bad news to give when they said that Kendall Marshall suffered a torn ACL and won't be able to play for the rest of the season.
On Thursday, the player suffered the knee injury in London when the Bucks took on the Knicks.
"He's been great for us," said Jason Kidd, Bucks coach. "It's disappointing. It's an unfortunate accident for a player who was playing well."
Last summer, Milwaukee claimed the player off the waivers, and in 28 games, he recorded an average of 4.2 points and 3.1 rebounds while he was fixing a bench unit that this season is at the top of the NBA with 43.6 PPG.
"We'll play the 11 that we have and we'll go from there," said Kidd. "Kendall brought a lot to the table for us, being able to anchor that second group, keep the ball moving and post up, too."
One year ago, Milwaukee ended in 15-67 – a league worst – but this season they were able to go 21-19, even though for several stretches they played without a few vital contributors.
"We don't plan to stop having a good season," said Marshall. "We've been through a lot of adversity this year. We've had a lot of stuff to deal with so this is another small bump in the road that we have to find a way to get through and hopefully come out better."
Parker suffered an injury to the left knee that put his season to an end.
Sanders, who was not able to play since the 23rd of December, won't feature for at least 10 more meetings after he was suspended by the NBA for using marijuana. This would be the player's second suspension for breaching the anti-drug program that the NBA has in less than a year. For the season of 2013-2014, Sanders wasn't able to feature for the last five meetings.
"We want to see him get through this and become a better person and a better teammate," said Kidd.
"We'll have a conversation at some point."
This season, Sanders hit the court in 27 occasions and in 21.7 minutes he had an average of 6.1 rebounds and 7.3 points.
The player is currently in the first year of a $44 million, four-year extension to his contract that was signed before last season.
The center, who stands at 6-foot-1, missed time last season for 27 meetings due to a fracture located close to the eye. Online bookmakers remember when last season, the player was also on the sidelines for 25 meetings after having right thumb surgery after an injury sustained in a fight in a bar.