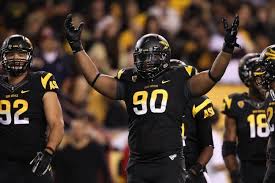 On Saturday night, Arizona State's football betting fans saw that the Sun Devils had a very good start to the season when they beat Colorado, but this time they might have no choice but to pay a very heavy price. The team could have lost the services of their starting QB, and many fans would like to see what the team will do now if this is the case.
In the game's third quarter, Taylor Kelly ended up leaving the game, and the player later showed up using crutches and on the sidelines, with a protective boot placed on his right foot. More details on the player's injury were not given by Todd Graham.
"All is I know is he's out tonight and we'll evaluate it tomorrow," Graham said after the game. "I'm very concerned. It was tough for us tonight, that's part of it. You have to be able to respond."
Graham was reportedly in higher spirits in a radio interview after the game, as he said that the player would be "fine" and that the team "have a week and half to get [Kelly] ready" before September 25, when they face UCLA on a Thursday night.
But in the game's final minutes, the player appeared to not be in the best of spirits while watching the game from the sidelines. The following was posted by House of Sparky, the Sun Devils' fanblog:
The player left the meeting with 13 of 21 passes completed for 195 yards, 70 yards rushed, and an impressive 50-yard TD.
Kelly was replaced by Mike Bercovici when the team played the Buffaloes, and for eight yards he was able to complete 2-of-4 passes.
Football betting fans know very well what an important player Kelly is to the Sun Devils, and would like to see how the team will manage without him. Hopefully his injury did not prove to be too serious, and the team's fans are knocking on wood, hoping that the player makes a very speedy recovery.