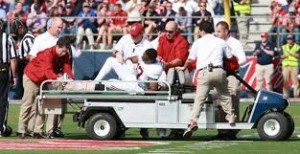 Alabama's Live betting fans have even more reasons to be concerned after the team's loss to Mississippi, as on Monday, coach Nick Saban revealed that the team's next few meetings could be affected after three of the Tide's players suffered injuries on Saturday.
The worst of the injuries went to RB Kenyan Drake when on Saturday, Ole Miss defeated Alabama 23-17. The coach said that it would take from eight to ten weeks until the player "would be able to even think about playing football again." Now many fans would like to see how the team could be affected without his services.
"They sort of break the leg and your ankle is dislocated and you pin the two together," said Saban regarding the injury that the player suffered. "But that's not medical expertise. That will be a better question for the medical staff."
Denzel Devall, starting LB, suffered a high ankle sprain, and he will not be able to play from three or four weeks after he underwent surgery. Ryan Kelly, starting center, won't be able to hit the field for "a couple of weeks" due to a sprained knee, but Saban said that the player's time out of the game will depend on the progress that he makes during his rehab.
Drake, a player who was both a WR and RB, happened to be one of the most powerful weapons used by Lane Kiffin, the team's offensive coordinator. Drake recorded 112 yards, as well as two receiving TD's and four rushing TD's.
"Kenyan has a lot of production for us and has done a really good job all year long," said Saban. "I don't think there's any question about the fact that when you do lose a player like that it does have some impact.
"But I do think we have players that can do those things, and they're going to get the opportunity to do it and we're going to have to have some other people step up."
Alabama, who are currently No.7, will take on Arkansas and then on Texas A&M.
The Tide will now depend more on starting RB T.J. Yeldon, and Derrick Henry will be the one step up for Drake. Altee Tenpenny and Tyren Jones will also probably get more snaps in the player's absence.
As Kelly was put on the sidelines, the Tide will use the services of Bradley Bozeman.
Live betting fans also learned Devall's position as outside LB will most likely be taken by Dillon Lee.
"All these guys have been really good players for us," said Saban. "They've made a great contribution to our team in many different ways. But as always, when you lose players it creates opportunities for other players, and this is obviously a situation where we're going to need some other guys to step up big to take the roles of what these guys have been able to accomplish and do."