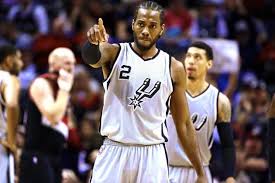 Kawhi Leonard, San Antonio Spurs small forward was named 2014-2015 Kia NBA Defensive Player of the Year Award. It was a very close three way race between Kawhi, Golden State forward Draymond Green and Los Angeles Clippers center DeAndre Jordan.
Kawhi Leonard coming off an NBA Finals MVP won the award despite not having the most first place votes. He still won due to the most points. Draymond Green actually had the most first place votes at 45 to Leonard's 37. In points though Kawhi edged Draymond by the score of 333 to 317. A very close race indeed, DeAndre Jordan finished in third place with 32 first place votes and a total of 261 points. Anthony Davis the New Orleans Pelicans power forward ended up a distant forth with 107 points and 11 first place votes.
Kawhi Leonard is the shortest player at 6'7 to win the award since Ron Artest in 2003-2004. Each of the last ten Defensive Players of the Year was either power forwards or centers. He also holds claim to being the first player since 1982-1983 to win Finals MVP and Defensive Player of the Year without previously having made an All-Star team.
Kawhi played just 64 games this season, but he still made an enormous impact for the San Antonio Spurs. Kawhi helped the Spurs finish third in defensive rating 99.6 points allowed per 100 possessions during the regular season. While Kawhi was on the floor, the Spurs allowed just 97.1 points per 100 possessions and that number jumped to 102.2 when he wasn't playing.
Kawhi Leonard was the first Spurs player to win the award since David Robinson in 1991-1992. Leonard lead the league in steals with 2.31 per game. He was just the sixth forward to lead the league in that category since it became an official stat 42 years ago.
Kawhi Leonard also set career highs this season in different categories, such as points 16.5, rebounds 7.2, assists 2.5 and minute per game at 31.8. Kawhi has been the heart and soul of the tem since his rookie year when the Spurs acquired him in a draft trade with the Indiana pacers for guard George Hill.
Bookmaking solutions have the defending Champion San Antonio Spurs at 7/1, and they have a tough task on their hands with the Los Angeles Clippers and their home court advantage.