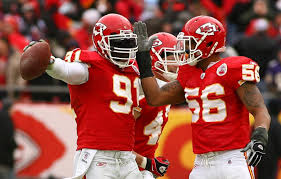 After the Chiefs were able to cover against the Broncos and the Dolphins as the on-the-road underdogs, they gave the Patriots a very big 41-14 upset as the home underdogs by three points. Now price per head agents can see that they're 3-1 ATS this season, and are set to be the dogs for a fourth time in a row when they go to San Francisco to take on the 49ers.
However, after their amazing victory against New England, it might be right time to not underestimate the power of the Chiefs. Coach Andy Reid was able to build a very effective offense with two RB's who have plenty of talent. Jamaal Charles went back to action from injury, scoring three TD's as he and Knile Davis beat New England for 207 rushing yards, impressing NFL fans everywhere.
QB Alex Smith also did a fantastic job, as the player was able to complete 20 out of 26 passes for 248 yards and three TD's – two of them that went to Charles. Smith was able to complete over 76% of his passes for six TD's in the past two weeks. He now appears to be just like the QB who in 2011 took San Francisco within only one win of that year's Super Bowl. Kansas City will need to have a similar outing from their QB in order to beat his former team in an away game.
It would also definitely not hurt Kansas City if they use some more of the same type of defense that they used when they took on the Patriots. Justin Houston, pass rusher, made two out of three sacks, which include one that caused a fumble by Tom Brady, while the Patriots QB was picked off two times by their secondary – one of which ended up being taken home for a TD.
The Chiefs' defensive backs will be very alert for any wrong passes by Colin Kaepernick, who in his season's first four games made four interceptions.
When they took on the Eagles last Sunday, the 49ers were finally able to play their well-known game of lockdown defense and very hard running that over the past four years made the team so successful. Due to this, they were able to beat the Eagles at home 25-21.
San Francisco ended up running the ball for 218 yards 42 times down the throat of Philadelphia's defense, with RB Frank Gore recording 119 yards on 24 carries made. The 49ers' defense also gave Philadelphia's offense their season's worst game.
For more than 42 minutes, San Francisco was able to control the possession of the ball. Those parts of their game will again prove to be very important in San Francisco's efforts to beat Kansas City.
The 49ers will take on Davis and Charles – Kansas City's duo on the backfield. However, with 70 rushing yards allowed on each game, San Francisco have a ranking of second place, and in Philadelphia's running game they held Darren Sproles and LeSean McCoy on 12 carries to only 22 rushing yards.
Price per head agents believe that if the 49ers keep on working on their running game, they shouldn't have any major problems moving the ball nicely against Kansas City's running defense, and many fans out there believe that this could help San Francisco win and cover when they face the Chiefs.