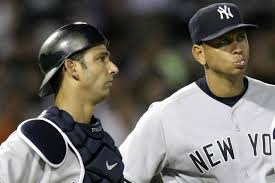 Yankee former catcher Jorge Posada says players that are associated with performance-enhancing drugs such as former teammates Roger Clemens and Alex Rodriguez should never be inducted to the Hall of Fame.
"I don't think it's fair," Posada told "CBS This Morning" on Wednesday. "I really don't. I think the guys that need to be in the Hall of Fame need to be a player that played with no controversy."
Jorge Posada a five-time All-Star lamented missing out on the American League MVP award in 2003, when fellow teammate Alex Rodriguez won the award.
I was almost there," said Posada, who finished third in the voting behind A-Rod and Carlos Delgado. "You know what could've happened if … you know, it's tough. It's really tough."
When Posada was posed with the question if A-Rod or Clemens should be inducted to the Hall of Fame, Posada said "No." Then when asked if he resented players who didn't play clean posada said "Yeah."
The Yankees who Bookmakers Solutions and Sportsbook Software have the odds to win at 18/1 with strong performances from the subsequent A-Rod to start the year.
Posada hasn't had a chance to talk to A-Rod about it and he believes A-Rod would be surprised to see his stance on the subject. He has chance to let his feeling known when they meet when the Yankees retire Bernie Williams' No. 51. On May 24th. Posada will have his No. 20. retired on Aug. 22.
Throughout his career, Posada's best friend on the Yankees was Jeter, whom Posada often referred to as his "brother."
Jeter and A-Rod's relationship has been well documented as being hot and cold at times. Roger Clemens has not been back to the Yankees facilities since being named in the Mitchell report, on performance enhancing drugs in MLB. Clemens is currently fighting theses charges.
Posada is not the only player who thinks that these players who used PED's cheated the game. MLB went through a very dark period at the time when multiple players in there league were playing dirty. Many of these player signed lucrative contracts due to their play. The one that stands out the most was when A-Rod signed with the Texas Rangers for the highest contract signed by a baseball player at the time.
The interview with CBS was part of Posada's book tour for "The Journey Home: My Life in Pinstripes."