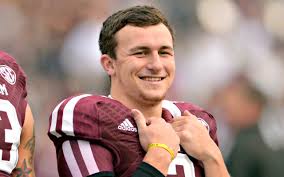 Johnny "Football" Manziel's Live Betting fans cannot believe that the player is ready to give away or share his nickname.
On Thursday after Aggies QB Kenny Hill defeated the South Carolina Gamecocks for 511 passing yards, which beat Manziel's record for the school, the rookie QB of the Cleveland Browns could see that the sophomore who replaced him earned plenty of attention and respect, and so could many fans who saw the game and the plaJohnny "Footbal" Manziel doesn't mind giving his nickname to Kenny Hillyer's performance.
Manziel showed his admiration for Hill when he took to Twitter, and later in a news conference he shouted out the player's new name. "Kenny Football, baby!" Manziel also yelled when they told him that at the school, he might already be old. "Let's go!"
KENNY FOOTBALL!!! #GigEm
– Johnny Manziel (@JManziel2) August 29, 2014
The Aggies's fans saw that this was the first game that the team played in two years without the services of Manziel, who happened to be the very first freshman to clinch the Heisman Trophy. Hill scored three touchdowns and was able to make 44 of 60 passes.
However, Hill didn't seem willing to want to take the name.
"I don't really like 'Kenny Football,'" he said.
Manziel was then asked if he could so easily give away his nickname.
"Hey," he said. "You throw for 511 yards …"
In the meantime, Johnny Football made a touchdown pass in his game against the Chicago Bears, and made very good progress so far in the NFL's preseason. Starter Brian Hoyer's backup ran for 55 yards, threw the touchdown pass, and had some very nice plays.
Love my aggies man great road win!!
– Johnny Manziel (@JManziel2) August 29, 2014
Texas A&M fans, especially those who enjoy Live Betting, were amazed to see what Hill was able to accomplish when they took on the Gamecocks, but they're also not ready to forget what Johnny Football did for the Aggies in the time that he spent playing for them, and many believe that his name should not be touched.