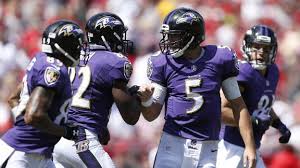 Not even a week has passed, and this would be the second time that John Harbaugh, Ravens coach, said that Joe Flacco is "the best quarterback in football". Obviously not all fans agree, but pay per head agents can see that the coach really believes in the player, and this is never a bad thing in the sport.
This latest declaration made by the coach happened on Saturday night, after the Ravens' wildcard game against the Steelers, when Flacco led Baltimore to a 30-17 win. This is the first time that the Ravens beat the Steelers in a playoff game, and for 259 yards, the QB completed 18 out of 29 passes with no picks and two TD's, ending the game with a passer rating of 114.0.
"Joe Flacco, what can you say," said Harbaugh. "He's the best quarterback in football. We'll take him any day of the week, twice on Sunday or Saturday if that be the case."
The player did much better during the postseason. Flacco was never voted to a go to a Pro Bowl, and in just one season he was never able to throw for 4,000 yards. This season, the player's 3,986 passing yards proved to be a high in his career, but in the league it was only at 12th place.
However, during the postseason, the QB's performance impressed even more. Flacco made it to 10-4 during the postseason when the Ravens beat the Steelers, and seven playoff road wins are included, which happens to be two more than any other QB in the history of the league. Flacco threw 13 TD's without any picks over the last five games that he played in a postseason. He was also able to win the Super Bowl MVP, and many fans that saw his performance could see why he won it.
"He's Cool Joe," said LB Terrell Suggs. "The situation may change, but we don't. Joe didn't change. That's his game. He's going to make plays."
NFL fans and pay per head agents alike know very well just how talented Flacco is and that he's a vital part of the team. There are clear disagreements on whether he's the best QB in the NFL, but the most important thing is that the coach fully backs him up, and fans everywhere would like to see how he'll do against Brady when the Ravens face the Patriots on the 10th of January.