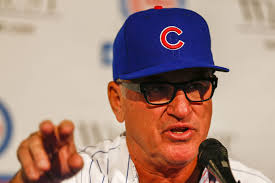 Maddon was not at all happy with the outcome, from a close double called out after booth review. He lahed out at the system calling them "nerds" well versed in analyzing video on the fly, per Pay per head sportsbook sources.
"I think it screams for an independent group back there to research the video," Maddon said after the game. "That's what I think it screams for as opposed to working umpires that are actually on the field. I think you should get a bunch of nerds back there that know how to look at a videotape and then come to a conclusion. I think it would be much more interesting that way."
All reviews are administered at MLB headquarters in New York by umpires who make the final decision. Umpiring crews rotate into the role and back onto the field throughout the season.
The play in question was on a double by Cris Denorfia in the bottom of the 9th to left fielder Scott Van Slyke. Slyke made perfect throw to second and Denorfia was called out on the field. A booth review was called for and after the review the call stood but wasn't confirmed.
"To say there was nothing definitive right there — I cannot disagree with more strongly," Maddon said. "I have no idea why they would say that. It makes zero sense to me whatsoever.
"If the play was confirmed, I could almost live with that. To say it stands — it's just not a cool way to go, game on the line. And it was obvious from that one shot he was absolutely safe. No questions asked."
A call that stands reverts back to the call on the field as replay officials determine there wasn't enough evidence to overturn. Denorfia said he never should have been in that situation with sluggers Anthony Rizzo and Kris Bryant due up behind him.
"I wasn't expecting it to end up like that, for sure," Denorfia said. "It's not a smart baseball play. It's something I know not to do, to get thrown out when we're trying to put an inning together. A lot of things went good for them on that play. The ball bounced right to him, he put it right on the bag, but it doesn't matter. I shouldn't have gone to second anyways." Usually after a complaint changes get made.