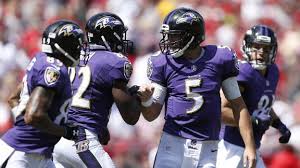 Joe Flacco turned out to be only the third QB in the last decade to be able to throw four passes for a TD during the first quarter when the Ravens gave the Bucs a serious pounding on Sunday, in a game that impressed fans and price per head agents alike.
In total, the player threw for 5 TD's and 306 yards when Baltimore took out the Bucs 48-17.
Flacco's first two passes for a TD were thrown to WR Torrey Smith, and then the player made two more – to Kamar Aiken and Michael Campanaro. This turned out to be the season's first TD's for Aiken, who in three years is playing in his fourth team, and rookie Campanaro, who was playing in his first game, impressing many fans in the process.
The QB was able to complete 9 out of 12 passes for 140 yards, and on third down, the player made his last three passes for a TD during the first quarter.
Sage Rosenfels, who in 2007 made four, and Tom Brady, who in 2009 made five, are the only other QB's who in the past 10 years were able to throw four TD's or more in a game's opening quarter.
Then Flacco was able to tie a record made by the team when he scored the fifth TD with a 56-yard pass thrown to Steve Smith only one minute and 33 seconds into the game's second quarter.
Sources reported that Flacco's fifth pass for a TD ended up setting a record for the fastest such display that was made in a league game since the merging of the NFL-AFL.
The TD pass thrown Smith was only made 16:03 after the game started, breaking the old record that was set by Pittsburgh's Ben Roethlisberger, who in 2007 was able to throw five TD's against Baltimore 28:09 after the beginning of the game, and price per head agents remember this very well.
Peyton Manning was the player to last throw for five TD's in one half, and it was done in 2013, in the second half of a game that took place in Week 1.