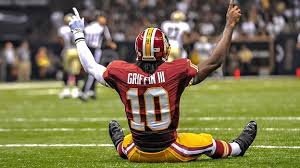 Robert Griffin III is still recovering from an ankle injury that he suffered in Week 2, but when the player returns to the team's lineup there will still be lingering questions about the future that he has as the franchise QB for the Redskins. When he was a rookie, RG3 was able to lead the team to a division title as well as the playoffs, impressing many Live betting fans along the way. However, an injury to the knee that he suffered in a wild-card showdown ended in a bad start to the 2013 season, and RG3 was on the sidelines for the last three meetings.
Coach Jay Gruden, who took the place of Mike Shanahan during the offseason, is aware that when the player goes back to the lineup he must consistently play at a very high level and keep his health. Many Live betting fans know that these were two things that were major issues for him during his young career in the game.
"He has got to come out and, when he gets healthy, prove he has got the capability to be a franchise-type quarterback," said Gruden in an interview this week with the Washington Post. "He showed so much promise his rookie year. The second year he gets hurt and has all those distractions. Then he comes out here, gets a fresh start and gets hurt.
"When you're judging a quarterback, you judge progress and consistency. Right now there has been not much progress and very little consistency. …
"He might miss a throw here or there, but as long as he doesn't make the catastrophic mistake and make it about himself more than about the team, you've got a chance," Gruden said of what he wants to see of Griffin when he returns.
"I've had him for training camp and (offseason workouts), and obviously it's a totally different speed," Gruden added. "One game against Houston, in which he didn't play very well, and the first quarter against Jacksonville is all I've had so far. It's not much. We're still in evaluation process. I want to see how far he has come."