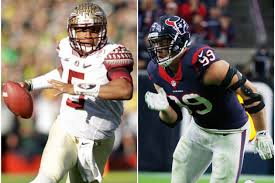 It's safe to say that the majority of NFL quarterbacks try to steer clear from Texans DE J.J. Watt, but this is not the case with Jameis Winston, and price per head providers were taken aback when they learned that the Bucs rookie would not mind going head-to-head with Watt when the new season begins.
When the No. 1 overall pick was asked about which player he wanted to face the most this upcoming season, his answer was surprising, to say the least.
"The player I'm most looking forward to play against has to be, probably J.J. Watt," said Winston. "We play them Week 3 in Houston I believe. It's going to be a fun matchup."
Many fans were perplexed by Winston thinking that taking on Watt will be "fun", as it's no secret that the DE tends to be quite brutal on the field.
Throughout the 4 years that he spent NFL, Watt had a total of 12 forced fumbles, 37 passes defended, 57 sacks, and 295 tackles, impressing fans everywhere in the process. Yes, that's a pretty high number, and one that no player in the league should take lightly. He also won the award of defender of the year – not once, but twice.
And this year Watt could have improved his game even more, something that should make many players even more hesitant to face him. The DE for the Texans was spending the offseason in a wooden cabin working out and eating plenty of eggs on a daily basis – apparently he ate more eggs than the average person is able to digest. Will this give him an edge? Perhaps. What is certain is that he'll be back in full force.
Now, price per head providers know that if Winston wants to even consider facing the famous DE, his time is limited. The rookie has three months to prepare if he wants to take on Watt. In that time, he's looking to prove himself as a player, and that he has a place in the NFL.
The rookie is also looking to prove himself as a "baller, shot caller."
"What I want to prove at training camp is just that I can play," said Winston. "That's the main thing about football, is going out there and playing because it ain't really about talking. It's about playing. So I just want to prove that I'm a baller, shot caller."