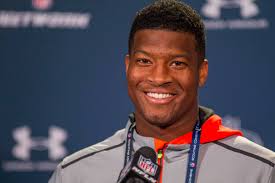 On Tuesday, QB Jameis Winston was in Tampa so he could meet the Buccaneers, and pay per head sportsbooks found out that the meeting went on throughout the day.
One source reported that Winston, former star for Florida State, arrived on Monday to Tampa and is set leave on Wednesday. The player's meeting on Tuesday was mostly with the Glazer family, the teams' owners, and one more source reported that the player's trip to Tampa was "Glazer-centric". The player went to the Bucs to see how comfortable the team would feel if they have him in the team.
The Bucs' website said that on Tuesday morning, Winston also ate breakfast with coach Lovie Smith, and later on the player spoke at length with GM Jason Licht.
"Being able to play three years in Florida, I would love to stay here in this great state," said the player.
"I've just got to take advantage of this blessing. It's not really important to me to be the first pick, but it is important to me to be picked. I believe that I have been blessed during my years at Florida State to win a national championship and just be a winning quarterback. And I believe this place — I would love to be here."
The trip's timing is a bit odd. Pay per head sportsbooks know that it's not usual at all for prospects to visit teams in the NFL before April. People surrounding the league don't seem to recall a player who could be a top placed overall pick paying a visit to the Bucs so early in the year.
A source reported that the NFL was informed of the player's trip, and it was cleared.
A source in the league said that the QB's schedule was taken into account, and this is the reason for the early visit to team.
Bucs officials are also planning to meet the player at Florida State during the spring
"I just want them to know that I am human and I'm a great person," said Winston. "This smile isn't fake. I just want to show them that I can be the face of this franchise one day. Actions speak louder than words."
Sometime next month, QB Marcus Mariota, former star for Oregon, is set to visit the Bucs.
The league's draft takes place from the 30th of April to the 2nd of May.