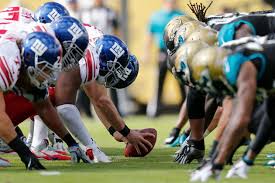 The Jacksonville Jaguars on week 1 of the NFL preseason pulled quite an upset when they beat the Steelers 23-21. Now the Jaguars hit the road and go up to MetLife Stadium and face the New York Giants. Live betting services agents has the Giants as favorites at the time with a line that is around -3 (scheduled to change most likely). However the Giants are coming from a tough loss on the road against the Bengals. Are they really the favorites?
Preseason football is a strange thing, in reality these are games that see a lot of the players who come regular season might not get too much playing time and there are still a lot of tinkering here and there with the teams' strategy and line-ups. That is why the final result of the game is not as important as the way the teams are playing. An NFL team much rather look strong and ready for the regular season than to win a preseason game. That explains some very odd and surprising final scores on the games that you will see all preseason long.
The Jaguars' last game might fall under that category, but it would be unfair to the several high point they displayed last week. Their young QB Blake Bortles was impressive, hitting 11 of 15 passes, and throwing for 118 yards. Not too bad for a preseason game, bookmaking services definitely took notice. Bortles, however, will not be able to use Julius Thomas as the Tight End will be out for the rest of the preseason.
Jacksonville will take this game as an opportunity to work on their defense. Much improvement is needed after from what we saw on their game versus the Steelers.
For week 2, the Giants will see veteran WR Victor Cruz be on the field for probably a handful of plays. Manning will very likely be targeting him during their time on the field. This ight not be for a long time during the game, but it can make an impact on the score.
Defensive-wise, the Giants are trying to find the winning combination, as they are still not settled on what their starting lineup will look like come the NFL season. This might be still a work in progress especially considering that there are still two more preseason games to go. Do not expect them to look ready this weekend.
We predict that the Jaguars will steal this game, based on Bortles momentum. So you can go ahead and place your bet on your favorite price per head sportsbook. The final score will be 21-17.