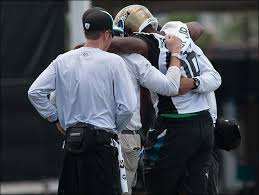 Dante Fowler Jr.'s rookie year got off to a very shaky start in Jacksonville. His rookie season lasted less than an hour when he abruptly suffered a torn ACL in his left knee. He suffered the injury during an 11-on-11 drill in the first day of the Jags rookie minicamp.
Sportsbook Software Services and Bookmakers Solutions have a very high odd on the Jags and this obviously gives you further notice not place any interest in this team for this year.
Dante 6-foot-3, 261 pound defensive end will be facing knee surgery and grueling rehab that will probably last at least 10 months. This will mark the first time the rookie will miss a game due to injury. Even through this tough time he still stood at the podium with a huge smile on his face.
"It was just one of them unfortunate things," Fowler said. "If I would have never got hurt yesterday, we would have been talking about probably how good I was in practice. I was feeling good.
"It was a great first hour. Hopefully we're going to have a lot of good years to come."
That was the type of kid the Jags knew they were drafting "It's a tough deal for him to go through," Bradley said. "I'm very optimistic after a chance to meet with him. His spirit, I see why we drafted him when we did. His spirit, his mindset going into this, I don't know, I find it hard to be matched. For me, my concern was to know how he's going to handle it and once I had a chance to visit with him, knowing what he's going through, and how he's going to attack this, very optimistic about Dante and how he's going to do it.
"There's no doubt in his mind he's coming back, bigger, stronger and going to take advantage of this opportunity."
Dante injured himself while rushing the passer in 11-on-11 drills. He was engaged with the right tackle Watts Dantzler when his foot got caught underneath hi, and he felt his knee pop.
"My weight shifted one way, my foot got caught in the dirt," said Fowler, who was selected by the Jaguars with the No. 3 overall pick in the NFL draft. "It was a little nasty feeling.
"That's just the game of football. We were out there practicing. … You don't know what's going to happen. It's just one of them unfortunate things."