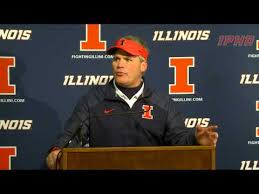 A week before college football season opener, the Illinois Fighting Illini fired football coach Tim Beckman amid accusations of influencing medical decisions and pressuring players to play hurt. Mike Thomas announced the firing on Friday. Pay per Head Sportsbook does not hold an odd as they would be part of the field.
In Thomas statement he said the dismissal was in relation to the external review which includes efforts to avoid reporting player injuries. Offensive lineman raised eyebrows with his Twitter comments which in turn lead to the investigation towards Beckman.
"The preliminary information external reviewers shared with me does not reflect our values or our commitment to the welfare of our student-athletes, and I've chosen to act accordingly," Thomas said. "During the review, we have asked people not to rush to judgment, but I now have enough information to make this decision in assessing the status and direction of the football program."
Thomas informed the team on Friday about the firing of Beckman also expressed that there were instances where players were treated inappropriately in the instances where players were questioned if they could remain on scholarship during senior year if they were not on the team.
"Both of those findings are unsettling violations of University policy and practice and do not reflect the culture that we wish to create in athletic programs for our young people," Thomas said in the statement. "I expect my coaches to protect players and foster their success on and off the field."
Cvijanovic raised allegations on Twitter and said that Beckman forced him to play through shoulder and knee injuries in 2013 and 2014. Cvijanovic's accused the team's medical staff of removing the meniscus in his left knee without his consent. Some other former players came forward to echo Cvijanovic's claims, although others came out in support of Beckman.
Cvijanovic tweeted Friday after Beckman's firing was announced.

Thomas expects the findings of the review to be publicly released at some point during the season. More than 90 people have been interviewed and nearly 200,000 documents have been used during the investigation, and practice and game film have also been under review.
Bill Cubit was hired as offensive coordinator in 2013, and will take over as the team's interim coach for the 2015 season. Cubit was the head coach at Western Michigan from 2005 to 2012.