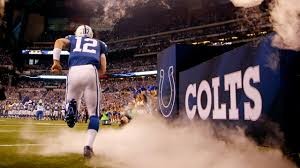 The Colts were the winners of the last two titles in their division, but now they have the job of figuring out how to take out the Patriots during the postseason, something that will be no easy task at all. Sportsbooks software services saw that New England eliminated Indianapolis in each one of the last couple of seasons, which include their 45-7 defeat last year in the AFC championship.
However, many sportsbooks believe that 2015 could turn out to be a great year for Indianapolis, as they're the favorites at 3/1 to clinch the AFC Conference title, as well as -400 to be the winners of the AFC South. Their odds to be the winners of the Super Bowl are standing at 8/1.
This season, Colts QB Andrew Luck could have some very powerful ammunition at hand. Going along with top WR T.Y. Hilton, Indy added Andre Johnson – the leading receiver of all time for the Texans, as well as RB Frank Gore. The Colts also got the services of Dolphins WR Phillip Dorsett. In 2014, Luck had his career's top season with 40 TD's – a record in the league – as well as 4.761 yards thrown. Indy's passing offense, which is leading the NFL, is not showing any signs at all of lagging, especially with Dorsett and Johnson in their ranks.
The Colts lost the services of Hakeem Nicks during the NFL free agency. Gore could help revitalize the team's running game. Outside LB Trent Cole joins the team to play across from Robert Mathis, giving their defense a proper passing rush. Safety LaRon Landry left the team during free agency, but Mike Adams, strong safety who's seen by many fans as a real powerhouse, is still with the team, and last year he made it to his very first Pro Bowl.
In the defense department, DE Henry Anderson could give some very necessary depth, as Clayton Geathers might be struggling to get time on the field in the safety position.
Indianapolis were able to win 11 games in a regular season in 3 seasons in a row. Many experts are sure that with an offense that's much more dangerous, the Colts will be able to make it four in a row, and sportsbook software services also believe that they have a very good chance of accomplishing this. In the case that the team makes very good improvements with their defense, there's a very good reason to think that this season the Colts could make it all the way to the Super Bowl.