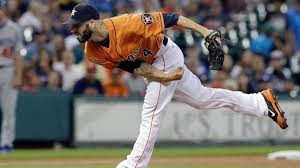 In the pursuit of 5 tool center fielder Carlos Gomez, Mike Fiers was a throw in. After last night s no-hitter he is an intrical part of what the Houston Rockets are trying to accomplish. He is also the guy who threw the first no-hitter in Minute Maid Park history. Odds for the Astros posted by Pay Per Head Sportsbook are 14/1 and the future seems to be looking bright in Houston.
Fiers throw 134 pitches with 10 strikeouts 3 walks in a 3-0 win over the Los Angeles Dodgers. It probably wasn't the most dominating no-hitter ever pitched but with every pitch Fiers seemed to find another gear. Minute made that housed more than 33,000 fans got caught up in the moment by the time the ninth inning hit. They were all on their feet for the last at bat when Justin Turner stepped to the plate. Fiers struck out Turner with 89 mph fastball throw his glove in the air and waited for his catcher Jason Castro to bear hug him, with his new teammates coming in from different directions.
Before the last at bat the moment got to him to the point that he had to step off the rubber.
"Oh man, my chest was beating hard," Fiers said. "The crowd helped me, definitely. Everyone was on their feet. I kind of looked around for a quick second, everyone's just going crazy and I'm just trying to get it done that much more."
The performance pretty much snuck up on everyone including Fiers who never even pitched to the ninth inning in a start before and held a 22-28 record. Fiers walked a batter in each of the first three innings and threw 60 pitches in the first three frames. After that he was awesome with a high fastball around the 90's, breaking ball and cutter the final 21 batters went down in order.
"He stayed a step ahead of us, it seemed like," Dodgers outfielder Carl Crawford said. "He kept making adjustments before we did and he hit all the spots. He didn't leave anything over the plate for us to hit." The Dodgers are by no means a soft lineup PPH Bookie service holds them at 7/1 so this a magnificent win.
"This guy's a really good pitcher," Hinch said. "He might be unheralded or he might be under the radar, he might not be a household name, but you talk around the league, he's had plenty of double-digit punchout games. He's been very, very effective the last couple of years. No-hitters in general are improbable, but take nothing away from Fiers against that team. He's a tough guy to hit."