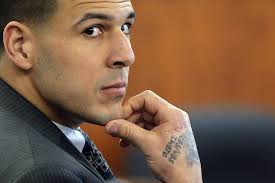 Former New England Patriot, Aaron Hernandez has been charged with trying to silence a witness in a double murder case against him by shooting in the face and leaving him dead.
Hernandez was indicted on Friday by a Boston Grand Jury on a charge of witness intimidation. Hernandez's lawyers didn't return a message seeking comment on the new charge. Hernandez was convicted last month due to the killing of Odin Lloyd. Odin was the dating his fiancée's sister at the time. Hernandez also faces two counts of murder in Boston.
Sportsbook Software and Bookmakers Solutions have the Patriots 8/1 to win the Super Bowl. Obviously Aaron Hernandez was an initial part of the system, but the Patriots are a veteran team coached by one of the best in the business.
The latest charge is in connection to the Boston killings. The DA's office said the victim of intimidation was a witness to those killings, which happened July 16, 2012. "Hernandez allegedly shot him in the face on the morning of Feb. 13, 2013, and left him to die on the side of the road in Riviera Beach, Florida, after the witness made a remark about the homicides," the office said in a news release.
The office did not identify the witness but is believed to be Hernandez former friend Alexander Bradley. Bradley sued Hernandez in Florida saying that to men went to a strip club in Miami where the two men got into multiple arguments. "Shortly thereafter, the car pulled over in an isolated industrial area, where Bradley was shot between the eyes," according to a filing from the Bristol district attorney's office. "The defendant exited the car and quickly dumped Bradley's body on the ground before fleeing the scene."
Bradley was found soon after by the people who worked at the establishment, Bradley survived. While the shooting happened in Florida he can still be prosecuted in Massachusetts because he is accused of willfully causing injury to witness with intent to impede a criminal investigation in Suffolk County.
David Jaroslawicz said that Bradley witnessing the 2012 shooting "totally new" to him. "I know nothing about it," Jaroslawicz said. "This is the first I heard about it. You're telling me."
The lawyer said that he didn't think it would affect Bradley's lawsuit. Hernandez a native of Bristol is serving a term of life in prison without the possibility of parole.