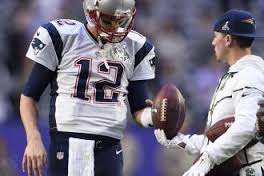 Everybody who is anybody remembers deflategate. It was something that took attention away from New Jersey governor Chris Christie's Bridgegate. (although that's now back at the forefront according to pay per head solutions sites)
Yes, for those of you who weren't paying attention earlier in the year, deflategate was when Tom Brady and the New England Patriots were accused of, ahem, letting a little air out of their balls.
The NFL has finally circled around the matter, even after the Patriots won the SuperBowl in February. (no word on the PSI of those balls)
A 243-page investigative report has been released from a New York law firm, Paul, Weiss, Rifkind, Wharton & Garrison.
Brady's agent, Don Yee, sees flaws in the report and says there is a conflict of interest between the firm and the NFL, as do pay per head solutions.
"This was not an independent investigation and the contents of the report bear that out, all one has to do is read closely and critically, as opposed to simply reading headlines."
Regardless of Yee's criticism of the report, people are asking if Tom Brady, the Patriots top scoring quarterback will (oh no!) be suspended for games this coming season. Will the owner, Robert K. Kraft, or the team get a sizeable fine, which has been so good to NFL coffers in the past? Will they lose a draft pick?
One question that has been bouncing around the pay per head solutions shop is whether tests were done on all balls before each and every game in the 2014-2015 season to set a precedent. If this was not done, the Patriots cannot be held accountable for a practice that could have been done by any and all of the other NFL teams. The fact that there is no proof of any previous tampering would make any accusations against the Patriots and Brady null and void.
Maybe if the report used more testimony provided by Brady, or if it was in fact written by people who had a better understanding of the league itself, there may be more to support for this inquiry, but for now it's no more than a common witch hunt.
Related Read:
The Colts Tipped the NFL on the Deflated Footballs
Colts GM Ryan Grigson Warned the NFL about Deflated Footballs