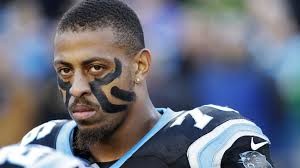 Dallas Cowboys defensive end Greg Hardy was suspended 10 games without pay for "conduct detrimental to the league." The NFL said in a statement on Wednesday. Hardy was suspended after a two month investigation after Hardy was accused of domestic violence. Sources told ESPN's Jane McManus that the NFLPA plans to appeal the suspension by the NFL.
Hardy had all of the charges dropped after Hardy's former girlfriend chose not to cooperate with North Carolina authorities.
"The NFL's investigation concluded that Hardy violated the Personal Conduct Policy by using physical force against Nicole Holder in at least four instances," the league said in its statement, and also noted Hardy's suspension would be "appropriate under any version of the Personal Conduct Policy or its predecessors."
The NFL had in its possession photos taken at the incident by the police. After a judge initially found Hardy guilty he asked for jury trial. Hardy later asked for his record to be expunged.
Hardy a 6th round pick of the Carolina Panthers in 2010 was place din the inactive list before the second game of the season and then the commissioner's exempt list before the third game until his domestic violence case was resolved. The team made no effort to re-sign Hardy after the 2014-2015 season when his contract expired, even though he is a talented pass rusher.
Hardy signed with the Dallas Cowboys this offseason on a one year deal worth $12 million. The Cowboys structured the contract in such a way that most of the earnings would be through per game roster bonuses. This was done in part because of the Cowboy knowledge; Hardy would miss games once the NFL made its ruling. The Cowboys have a week 6 bye, so Hardy would be eligible to return to the Cowboys for their week 12 game against, Yup you guessed it, the Carolinas Panthers.
Pay per Head agents and bookmaking solutions have the Dallas Cowboys at 15/1. While the Carolina Panthers are further down in the totem pole at 45/1. The league I really cracking down on players and are also make the teams they are signed to accountable for the sanctions off the field as it interferes with their brand. They have made strides in doing so and making the NFL a place where the players would be looked out for on and off the field.