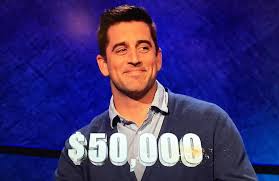 I love watching Jeopardy when not at pay per head solutions headquarters. I try to watch it every day to fulfill that trivia need in me. I happily yell out the answers as quickly as they come to mind, (if they come to mind).
I have decided that Celebrity Jeopardy, albeit good in its altruism, is not for me.
After learning weeks ago that Shark Tank's Kevin O'Leary would be up against Green Bay QB Aaron Rogers and astronaut Mark Kelly, I was really looking forward to the show. There is something about Mr. Wonderful (O'Leary) and his arrogance that makes him seem like the perfect candidate for a Jeopardy appearance.
Alas, all hope went out the front door as O'Leary barely answered any questions and found himself on the wrong side of zero more time than I thought was possible for any contestant.
I do of course congratulate Rogers for his spectacular performance, and for winning $50,000 for his childhood cancer research (Midwest Athletes Against Childhood Cancer),
O'Leary came in third place and earned $10,000 for his charity, even though by the end of the second round he was -$2800 in the hole after a very wrong response to a Bruce Springsteen clue. (Philadelphia was an Oscar winning movie and Best Music and Original Song for heavens sake)
Pay per head solutions noticed that even though O'Leary was in a minus position, Celebrity Jeopardy rules allowed O'Leary to play in the final Jeopardy segment with $1000.
O'Leary missed the final question, but so did Rogers and Kelly, and it was based on their final earnings that they landed 1st, 2nd and 3rd place with final balances of Rogers $8,339, Kelly with $4,300 and O'Leary total at $0.
If you missed the episode, there are of course ways to watch it again, but why not follow along as a Toronto website did a minute by minute recap of the half hour show, (only focusing on O'Leary, because he was one of the stars of Canada's Dragons Den before moving into the Shark Tank).
7:35 PM: O'Leary finally rings in! Asked what the smallest country in Europe is, he says it's Liechtenstein, that lovable tax haven. It's not, though—it's Vatican City. Oops.
Check out the Torontoist's minute-by-minute recap of the episode.