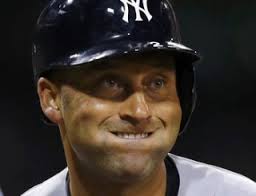 Four years ago when Derek Jeter was negotiating a new contract, GM Brian Cashman told him exactly where he as a player stood in the grand scheme of things. According to Sports Illustrated, Jeter asked Cashman who he rather have playing shortstop for the Yankees. Cashman answered, Troy Tulowitzki among others.
"Do you really want me to answer that?" Cashman told Jeter, according to SI. "We're not paying extra money for popularity. We're paying for performance."
Derek Jeter was coming off a season in 2010 where he had 10 home runs, 67 RBIs and a career low batting average of .270. Tulowitzki was coming off another stellar season with the Colorado Rockies, hitting 27 home runs with 95 RBIs and .315 average.
Jeter at the time was seeking a 4-6 year deal in the area of $22 million to $24 million a year. He eventually signed a three year, $51 million extension with the Yankees. The Yankees this year have odds of 12/1. Tulowitzki was traded this year to the Toronto Blue Jays who have odds of 5/1 and has sparked the team toward a run to the top of AL East standings, 2 games behind the aforementioned Yankees.
Cashman told the New York Daily News on Wednesday that he didn't provide any quotes from Jeter's negotiations to Sports Illustrated but that he "didn't confirm or deny" the report and didn't take issue with it. He confirmed that SI spent time with him but also that the magazine talked to others and "did a lot of homework."
And although Cashman said Jeter was the "greatest player I will have ever had," the general manager told the Daily News that he still has a job to do and has no problem answering players' questions "directly and honestly."
"Sometimes honesty hurts. But if you're being paid to do a job, do the job," Cashman told Sports Illustrated. "You have to honor the job description; if not, you're a fraud or stealing money. You can't fake your way doing this. You either do it or you don't."
The Yankees have seemed to turn doubters into believers this year with the duo of Alex Rodriguez and Mark Teixeira looking like the players of yester year. Didi Gregorius is now the starting short stop in the Bronx and though he's no Derek Jeter he plays good enough to great defense to get the job done.