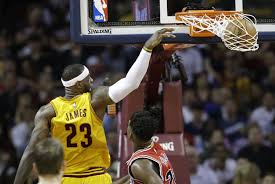 Lebron James and the Cleveland Cavaliers have saved face on game two, beating the Chicago Bulls 106-91. James was so determined to win this game he scored 14 points in the first quarter alone and Sportsbook Software solutions were excited for the win.
"For me, I had to change my approach tonight knowing how shorthanded we are and be ultra-aggressive," James said. "Kyrie (Irving) wanted me to be ultra-aggressive, which I'm not accustomed to doing, especially taking that many shots. I've never been a high-volume shooter. But I have to respond to my teammates. What my teammates want me to do, I try to succeed at doing it. This is a change of mindset for myself, and I have to do it if that's what my guys want me to do."
According to Sportsbook Software solutions, the Cavaliers had a determined lead in the first half, with a 64-45 score.
James scored a game high 33 points, but had lots of help from his teammates as Kyrie scored 21 pts,
Iman Shumpert added another 15 points but had to leave in the third quarter with a groin pull. He returned later in the game to help finish off the Bulls.
James Jones took another 17 points while Tristan Thompson helped with 12 rebounds.
The Bulls fought back in the second half, but their 26-23 third quarter and 20-19 fourth quarter just wasn't enough. Point guard Derrick Rose was humbled by the loss, but a gentleman.
"I think it was the same game. They started off great, they had the game plan. They had a lot of confidence in their shots, and we let them dictate the game from the beginning."
The series is now tied 1-1 and game 3 moves to Chicago.
Kudos to the Cavaliers on this win, and boo to a video that was aired and has since been deleted, that was a total loss for anyone involved with the video as per Sportsbook Software solutions.
The video may have been a foolhardy attempt at humor, but domestic violence is no laughing matter.
Seth Rosenthal published an article in SBnation about the whole thing, and a tweet he cam across on Twitter.
Strangest thing of night: when videoscreen showed skit of a guy in Cavs gear throwing girlfriend across room until she removed Bullsgear.
— Ethan J. Skolnick (@EthanJSkolnick) May 7, 2015