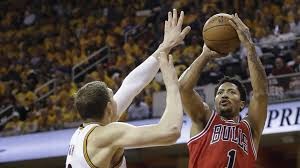 These Bulls are on fire! Monday night's game between the Chicago Bulls and the Cleveland Cavaliers was an exciting start to the series ending in a 99-92 win for the Bulls. The Cavaliers lost their first home court advantage and now must hope that game 2 has more for them and live betting services.
.
It seems that Derrick Rose and his team are back, with Rose taking 25 points and 5 assists, Pau Gasol adding another 21 points and 10 rebounds, and a Jimmy Butler topping it off with another 20 points.
The game looked to be off to a good start for the Cavs, but luck was not with Lebron James and company and by the third quarter the Cavaliers were seriously waning with a 16 point deficit. Their best effort had been in the second quarter, and after that it was all downhill.
"It's not a point about looking in the past or talking about the past," said Rose, who had a little shoulder problem late in the game. "The teammates I have on my team right now, like I said, I'm grateful. I'm so fortunate to be playing with them. I think we can be a dangerous team.
"The way I used to play back in the day is totally different than the way I play now," said Rose. "I can't think about the past or even put in my head (losing playoff series after being ahead 1-0). I can only have positive thoughts; just trying to lead my team in a positive way. You can't think of how many times he beat us in the past; it's over. We're in the present now."
Live betting services will be ready for game two in Cleveland and just from the interest in the first game, this seems to be the series bookmakers solutions' customers are interested in.
Lebron James moved back to Cleveland and many fans thought that this could be the year for an NBA championship. Will Derrick Rose foul James' plans?
Follow all of the NBA finals games, as well as many more in our live betting services, with lines and props available throughout the games.