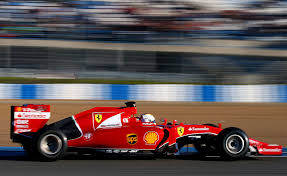 The Formula 1 2015 season is looking like a promising year for the Cavallino Rampante, Ferrari has not been able to put one of its driver on the top of the podium since the 2013 Spanish Grand Prix that was a drought of 35 races a lifetime if you are a Scuderia Ferrari fan, well last Sunday Sebastian Vettel broke the spell and became Ferrari's 38th different driver with a win.
This is the Prancing Horse's first turbo powered win since the 1988 Italian Grand Prix and Sebastian Vetel's second race as part of Scuderia Ferrari. Both Ferrari cars are looking great Kimi Raikkonen had a first lap punctured tire which left him in the last position; He was able to recover from that position and ended the race in the fourth place with 2 additional pit stops. This says a lot about how strong the Scuderia is looking this season as a 1-2 was possible on a race where all sportsbetting services and live betting services had Mercedes as the favorite since they have won all races since the Belgian Grand Prix on August 24 2014.
The Ferrari's set an impressive pace on Sunday on the 17th lap Vettel stopped for a new set of medium compound tires and fell behind the Mercedes with the pace and fresh set of tires He was able to overtake them on the track something that Ferrari fans hadn't seen much for a while a Mercedes falling short of the Cavallino Rampante.
Mercedes claims that Hamilton was not fast enough at the end of the race due to the fact that he was using the hard compound tires which made him slower. The Ferrari did not only beat Mercedes but on the closing stages of the race Sebastian Vettel was lapping both cars of his old Red Bull team, only future races will show if this was a group of bad decisions by Mercedes, the safety car on lap 4 or if the 2015 Malaysian Grand Prix was the turning point for Scuderia Ferrari.
The next race will be the Chinese Grand Prix on April 12 2015 in which Mercedes had a 1-2 last year with Nico Rosberg placing second and Lewis Hamilton winning the race. With world champions Sebastian Vettel and Kimi Raikkonen Scuderia Ferrari has a real chance to take constructors and driver's championship.