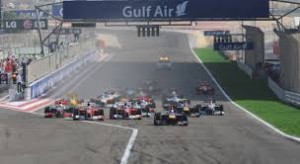 The 2015 Gulf Air Bahrain Grand Prix will take place this weekend and after the first 90 minutes of Friday's opening practice Kimi Raikkonen came on top of the timesheets. This is great for Sebastian Vettel and Kimi Raikkonen as Ferrari has a well balanced car for the weekend, when many teams were going through mayhem due to the slippery nature of the Bahrain International circuit, struggling with grip and experiencing front brake locking the Ferrari drivers Sebastian Vettel and Kimi Raikkonen had the quickest turns along six other drivers Nico Rosberg, Valtteri Bottas Sergio Perez, Fernando Alonso, Max Verstappen and Daniel Ricciardo. Lewis Hamilton currently 1st place after 3 races has placed 16th on this day one practice.
Practice two has been a slap on the face and back to reality for Ferrari, Toro Rosso and Williams as the Mercedes team is back on top with a 1st -2nd fastest lap Nico Rosberg on top followed by Lewis Hamilton with Ferrari's Kimi Raikkonen third and Sebastian Vettel the current 2nd place holder on the championship coming in fourth at .0630 from the first position.
Practice three has a nice mix Mercedes Lewis Hamilton 1st for Ferrari Sebastian Vettel at only 0.069 seconds third Mercedes Nico Rosberg and for Ferrari the driver who holds the record for the most podiums in Bahrain Kimi Raikkonen 4th place at 0.542 seconds.
Qualifying was not far from practice three and has the same order for the top four drivers Lewis Hamilton, Sebastian Vettel, Nico Rosberg and Kimi Raikkonen on that order. This is the first pole position for Lewis Hamilton in Bahrain and the 42nd pole position in his career, despite this pole Ferrari drivers Vettel and Raikkonen are expecting to have an excellent race and set a good pace against the Mercedes.
Price per head agents are should be also setting a good pace and look for the best live betting services in the industry as the odds for the winner have the top four Lewis Hamilton 1/2, Sebastian Vettel 3/1, Nico Rosberg 13/2 and Kimi Raikkonen 14/1. The odds for the Podium Finish Lewis Hamilton 1/9, Sebastian Vettel 1/5, Nico Rosberg 2/7 and Kimi Raikkonen 10/11.
Last year Mercedes had dominating race with a 1-2 finish, Lewis Hamilton finishing 1.085 seconds faster than Nico Rosberg and the Mexican Sergio Perez finishing the race on the 3rd position 24 seconds later. The drivers' championship currently has Lewis Hamilton with 68 points, Sebastian Vettel 55 points and Nico Rosberg 51. It is still early in the season and the top 3 can change depending of the final results of this race.