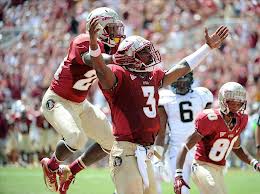 The undefeated Florida State Seminoles could be on their way to the playoffs, but in their last nine meetings, the 'Noles are just 1-8 ATS. Pay per head agents know that they'll again be the heavy favorites when they take on the Louisville Cardinals in the first game held by both teams as ACC opponents at Papa John's Cardinal Stadium on Thursday night.
Many sportsbooks opened up Florida State's betting line with the Seminoles being the favorites by 8.5 points.
After beating the Notre Dame Fighting Irish a couple of weeks ago, Florida State were able to win 23 consecutive games, and their team is 13-9-1 ATS, impressing many fans. The Seminoles did not play one of their best games this season when they took on Notre Dame, but when they had to, they were able to make some very proper plays, as they got two TD passes by Jameis Winston and TD runs by Karlos Williams.
The Seminoles are only ranking 53rd place in total defense and 47th place in total offense. However, in scoring they're 19th at 38 points a game, and at 22 points a game they're 29th place in points allowed.
Louisville were able to win three out of their last four meetings, and the Cardinals covered the spread in three out of their last five meetings, after they took out the the Wolfpack 30-18 a couple of weeks ago. The Cardinals got 173 ground yards from RB Michael Dyer, as well as two passes for a TD from QB Will Gardner, who this season has a ratio of 11-2 TD-to-interception.
And pay per head agents saw that Louisville's defense was able to hold NC Sate to only 128 rushing yards. In their total offense, the Cardinals have a ranking of 94th place, but are the ones who are leading the country in total defense, as only 245 yards-per-game are allowed, as well as against the run, only conceding 69 yards in each game played. This season, the most points that Louisville allowed were the 23 scored by both the Virginia Cavaliers and the Clemson Tigers.
Many fans can't wait to see how the Seminoles will do this time around when they take on the Cardinals, and even though Florida State are the obvious favorites for this showdown, there's the possibility that Louisville could surprise them, but this is yet to be seen.