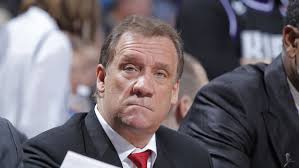 Minnesota Timberwolves head coach and president of basketball operations Flip Saunders has announced that he is battling Hodgkin lymphoma and is currently undergoing chemotherapy. The Timberwolves where able to land the top pick in this year's draft and selected F/C Karl Anthony-Towns from the University of Kentucky. Odds makers like Pay Per Head Sportsbook have the Minnesota Timberwolves at 250/1, and essential software for bookmakers has KAT to win Rookie of the Year at 11/2.
Flip said on Tuesday that the doctors have called his condition a "very treatable and curable form of cancer." The plan is for Saunders to remain as the Wolves' head coach and president while being treated. Flip says he's determined to beat the disease.
"I am taking it step by step and day by day to understand how to best manage this process," Saunders said. "I want to thank [Wolves physician] Dr. [Sheldon] Burns as well as my medical team at Mayo Clinic for their hard work in diagnosing my situation and creating a plan to help me achieve a cancer-free outcome. I am attacking this with the same passion I do everything in my life, knowing this is a serious issue. I also know that God has prepared me to fight this battle."
Flip was diagnosed with the disease two months ago and immediately started treatment. He was still working through his illness through the draft while being treated. The T-Wolves said Saunders continued to attend to all of his responsibilities. Flip handled the media, public relations and sponsorships duties around the draft. Saunders was full of energy.
Recently, the Wolves opened a downtown training facility that required extra time and attention. Flip was able to fulfill those duties in addition to his already heavy workload and travel in preparation for the draft.
Flip Saunders replaced the retired Rick Adelman to become president and head coach of the Minnesota Timberwolves in 2013. He still has a long way to putting the pieces together for a formidable contender, especially in the Western Conference. The drafting of KAT and Tyus Jones will help nurture that with the players already rosterd on the team.
The trade that brought over Andrew Wiggins for Kevin Love has turned out to be a very good one for the T-Wolves. They have an interesting blend of youth, talent and veterans to make if only a little noise this year.