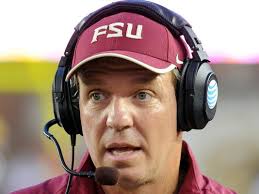 On Friday, Jimbo Fisher, Florida State coach, said that he wouldn't be surprised if QB Jameis Winston stays with the Seminoles for one more season or decides to join the ranks of the NFL, but pay per head agents would certainly not mind seeing the player join the big boys of the sport.
"Jameis loves college football, but I think he's going to be one of the top two players drafted," said the coach.
"He's got to make a choice. He's got to see what he wants to do. But it would not shock me either way."
The coach said that right now he's unaware of what decision will be made by Winston.
"I understand if he wants to go, when a guy's that high and you're doing what you do," said Fisher.
"But remember, he's a very, very good student. He's very smart. He loves baseball. He loves his time in college. He loves all the interaction of this, believe it or not. So it would not shock me either way.
"We'll have the discussion here pretty soon."
Winston is currently getting ready for Florida State's semifinal game against Oregon in the College Football Playoff, which will take place on New Year's Day. As the player does that, he is awaiting a judge to decide in Winston's hearing on the school's conduct code, which happened early in December over two days. In December of 2012, he was accused by a woman of assaulting her sexually, and the punishment that he could get could be nothing, or he could end up being expelled. The judge is expected to decide before the year finishes.
The QB didn't lose a meeting yet with the Seminoles. Florida State, who in the rankings of the CFP are at third place, were able to win 29 games in a row and would like to prove that clinching close victories throughout the season spurred the team to face the Ducks when the Rose Bowl gets underway. Pay per head agents know that this meeting is set to be a QB fight between the last two winners of the Heisman Trophy – Marcus Mariota and Winston.
On Friday, Fisher said that Winston's leadership on the field still impresses him, as well as how he wants to learn everything possible about the game.
"[We have] great conversations. If I watch Tom Brady every Sunday, I see [Winston] having those same conversations all the time," said Fisher. "I think you have an ultimate competitor who wants to do the ultimate thing.
"… His mentality is go, go, go, let me win. He drives our team. He's so fun to coach that way because his intelligence level, when you talk to him, is like talking to a coach. It really is. That's the thing that makes him special. Good enough is never good enough. He strives, pushes, challenges himself, consistently, every day and every practice because he wants to dominate his opponent."