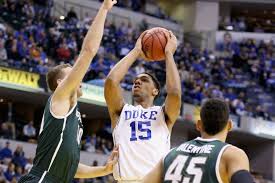 In this Matchup the #7 Michigan State Spartans will square off against the #1 seed Duke Blue Devils. Both are coming off impressive wins to qualify to the next level. Michigan State took on tough Louisville Cardinal Team and came out on top. The score was 76-70 Spartans and it was a back and forth affair. The match had to be decided in overtime where Michigan State outscored Louisville 11-5, to score the victory.
As usual Travis Trice was the leading scorer with 17 points, 5 boards, and 5 assists in a game high 44 minutes of action. He was helped by guard Denel Valentine who scored 15 points of his own to go along with 7 rebounds and 6 assists. Both of these players had great games, that's why fans and pay per head agents believe they are the reason why the Spartans have made it to the Final Four.
On the Louisville side Montrezel Harrell had a good not great game. He scored 16 points to go along with 9 rebounds and 4 assists, also chipping in 1 steal and 1 block. Wayne Blackshear had one of the better games in his career, scoring 28 points on 6-13 shooting with 3 boards in 39 minutes of action.
The next matchup was a very interesting one. The Duke Blue Devils vs. the Gonzaga Bulldogs. This was a very good test for Duke if they really wanted to know what they were made of. The Bulldogs did show resistance but slowly but surely the Blue Devils pulled away and showed that it was going to take a little bit more to come away with a victory against Jahlil Okafor and the rest of his Duke Blue Devil teammates.
Jahlil Okafor had another subpar game by the numbers but his presence alone more than makes up for his statistical downfalls. He is also not alone as the rest of the Blue Devils starting five came through with double figure scoring. Jahlil had 9 points with 8 rebounds while his sidekick Justise Winslow came through again with 16 points and 5 boards in 32 minutes of action.
Pay per head agents has set the odds at Duke –5 and total 139.5. This game will approximately start at 6:05 pm eastern standard time and Live Betting service will be available for this game. Duke will have their toughest test till date and the Spartans will be ready to bring the pain. Game On!