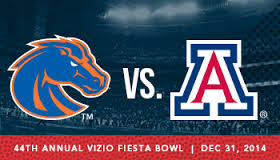 New Year's Eve should offer plenty of excitement besides the champagne and fireworks, as Boise State, who are ranked at 20th place, will go all the way to Glendale so they can face Arizona, who are at No.10, in the very famous Fiesta Bowl. Pay per head agents expect a very interesting showdown, and can't wait to see what will happen on the field when the Broncos face the Wildcats.
The years have passed, and the Broncos became increasingly famous in the Fiesta Bowl. Since 2006, this meeting with the Wildcats will prove to be the third trip done by the team. So far, the Broncos were able to win the last two Fiesta Bowls that they played, as in 2006 they beat the Oklahoma Sooners and in 2009 the TCU Horned Frogs.
This season, Bryan Harsin, Boise State's coach, did a very good job with his team, taking into account that the Broncos are the only side that aren't in the Power Five with a ranking in the poll of the CFP. The Broncos will try to use their running game to hurt the Wildcats as much as possible, and starting RB Jay Ajayi will be the one to lead them. This season, the player was able to rush for 1,689 yards with 25 TD's. Boise State QB Grant Hedrick is also very efficient on the field when it comes to the passing game, and this should give their offense plenty of speed. This will not be easy at all for the Wildcats, and many fans can't wait to see how they'll fend off the Broncos.
Arizona's wounds were healed after they were pounded by the Oregon Ducks. A bowl victory to finish their season will help the team's pain reduce – at least a bit. Their defense proved to be very strong – they could very well get in the way of Boise State's running game, and their fans are confident to that they'll come out on top.
This could be a very nice opportunity for the team to be redeemed since 627 yards were recently surrendered by Arizona's defense to Oregon. Many experts believe that the Broncos will be the ones to lose this meeting for the very first time in the history of the school, but Arizona will just win by a TD. However, pay per head agents know that the Broncos won't succumb that easily.