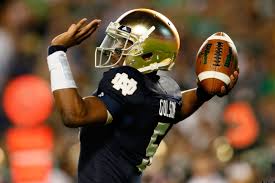 Everett Golson hit the field for the Irish for the very first time in almost 19 months, when Notre Dame took out Rice 48-17. Local bookies saw the team thrive with the quarterback, as he scored five touchdowns, rushed for 41 yards, and threw for 295, and many fans were thrilled to see him back.
Notre Dame's fans were very happy with the player's amazing performance, but they believe that it could have improved even more, as in the second quarter, receiver C.J. Prosise ended up dropping what could have proved to be a 45-yard TD pass – and if this would have happened, the Irish would have had an even bigger reason to celebrate.
Local bookies saw that all that Golson did was laugh his way to the sidelines after the pass was dropped by Prosise, and many fans can fully understand his reaction.
Notre Dame's fans could see that the team received a pretty big blow when Golson wasn't able to play for all of last season after May of last year, when the university kicked him out due to an "academic violation."
The player later admitted that he cheated while taking a test. Notre Dame was focused on the school's academics and players in the past few weeks, as they're missing the services of five players because of what was considered to be "academic fraud."
It is still not known how this will be solved, but even though Notre Dame may miss having those five players amongst their ranks, they're more than happy to see Golson return, and so are the team's fans.
Golson gave a very good boost to Notre Dame's offense. Plays were kept alive for a longer time thanks to the player's ability to move his way around the pocket, and let the Irish receivers release themselves from defenders. Golson worked his magic once they were set free.
To summarize it, Golson seems to be a quarterback that is keeping his promise from 2012 when the team's regular season ended 12-0, so it's pretty clear that this time around, Notre Dame will be a team to reckon with, having Golson as their quarterback.