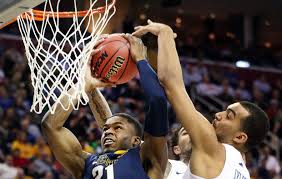 The Midwest Region hold the Number one seeded and odds on favorite Kentucky Wildcats versus the Notre Dame Fighting Irish. The Kentucky Wildcats are coming off an impressive drubbing against the West Virginia Mountaineers. They were outplayed from the word go and Kentucky showed there dominance for the whole world to see. The Twin towers Towns and Cauley-Stein really didn't do much damage and they really didn't have to. The Harrison twins had their usual productive lines both going for 12 and 13 points respectively. Dakari Johnson came off the bench for 12 points and 6 boards and guard Devin Booker also dropped 12 points in 17 minutes of action.
West Virginia did not far too well. They were basically outclassed in every aspect of the game and never had an answer for what Kentucky was throwing out there. Juwan Staten was the lone bright spot with 14 points in a game high 36 minutes of action.
The Notre Dame Fighting Irish came they saw they conquered. The Wichita State Shockers were a force to be reckoned with throughout the tournament, but it looks like they just ran out of gas against the Fighting Irish. Ron Baker left a lot to be desired in the game notching only 9 points off 2-10 shooting. Darius Carter scored 22 points and snatched 8 rebounds in 28 minutes, while guard Fred VanVleet had 25 points with 6 boards and 3 assists in his 38 minutes of action.
The Notre Dame Fighting Irish is developing an identity of a scrappy team and a team that just figures out how to get it done. There stud Jerani Grant almost had a double double notching 9 points to go along with 11 assists. Demetrius Jackson had 2 points on 7-10 shooting and forward Zach Auguste had 15 points with 6 boards. Overall a very balanced effort against a Shocker team with aspirations of moving on in the tournament.
Pay per head agents has set the lines up for the game at an 11.5 point favorite for the Kentucky Wildcats. The Wildcats have usually been a heavy favorite for every game and has not disappointed obliterating any line oddsmakers hand them. This next game is no different. The Notre dame fighting Irish will have to play spectacular to beat the Wildcats, have zero mistakes and cause some mistakes on their own on the defensive side. A very tall task but as they say that's why they play the games. Game on!