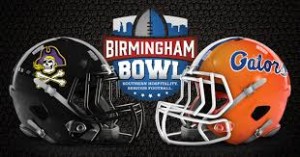 Florida and East Carolina are getting ready to lock horns on the 3rd of January when the Birmingham Bowl gets underway. Pay per head wagering companies saw that both of these teams had chances to do much better than they did in the season, but ended up upsetting many fans with their second-rate performances.
A season of 6-5 simply didn't prove to be enough for Will Muschamp to keep his job with the Gators, but he did help his team make it to a bowl meeting. And it's pretty interesting that three out of the five games lost by Florida happened by less than one TD, and were only pounded by Missouri and Alabama – two sides that featured in the SEC Championship.
Many fans saw that for the majority of the season, the Gators appeared to be in terrible shape, but the team did have a strong enough defense that was quite efficient on the field. Winning, even if it doesn't come nicely, is still winning, and there aren't many teams out there more aware of this fact than Florida.
When it comes to East Carolina, they were one of college football's most thrilling sides, making for very entertaining matchups. QB Shane Carden, who's well known in the football world for his huge talent on the field, is a very good runner and makes great plays when necessary, and many experts don't doubt that WR Justin Hardy will be able to join the ranks of the NFL, something that fans all over the country really want to see happen. In college action, the Pirates have a ranking of 6th place with their passing offense, and from this statistic, the player was able to record an incredible 1334 receiving yards, 110 receptions, and 9 TD's.
However, the team's top offensive players won't prove to be enough for the Pirates to record a victory when this game gets underway. The Gators' defense simply has too much talent, and East Carolina's offense has the tendency of having only one side, something that doesn't help the team's cause. Many experts and pay per head wagering companies believe that Hardy will be able to score his 10th TD, but the running strength of RB's Kelvin Taylor and Matt Jones will be too much for the Pirates to handle, and the Gators will ultimately be the ones to walk away with a very nice win in this clash.