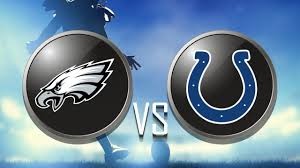 The final game of the first week of preseason features two teams that have high hopes for this upcoming season. Both the Indianapolis Colts and the Philly Eagles are coming into this season with big expectations from sport betting fans, as both appear to have a pretty good roster this season.
Pay per head providers and other PPH bookie services have the Eagles coming into this game as favorites by 4 points. They play at home and there is a growing interest to see how Chip Kelly will shape up this Eagles team. Also, it should be noted that the starting QB for the Eagles this game will be Mark Sanchez, putting Sam Bradford on the waiting list and very likely making his appearance when the Eagles face the Ravens on Week 2 of the Preseason.
As for the Colts, they left a very good impression on fans least year as they were on a very decent playoff run. The average Pay per head provider will have them as one of the front-runners to challenge the Pats once more for the AFC title.
One thing to take into consideration reading this game that tips the scale in the Eagles favor is that under Kelly, their preseason record is 7-1 and that only one of those games went to the under, in a rare showing by Philly. This year, considering how the running game will be a factor on this game and the depth of both squads, it is advisable to consider that the over and the Eagles appear to be a good solid pick for this particular game.
It is a very strong possibility that the Colts will have a very good season, following their good performance of last season, however don't expect them to look extra impressive this preseason. Your sports book or pay per head provider might have them in high regard, but expect them to pick things up come week 2 of the preseason.
However this game will have some interesting shades of possibilities, as the aforementioned Sanchez is looking to make a good impression for the notoriously demanding Eagles' fans. The Eagles have built a roster that just might be able to catapult them to the postseason, and there is quite a bit of expectation on how will Chip Kelly guide this team during the coming season. It will be fun to see also how their performance on this preseason measures against the odds that are being posted for their games by Pay per head providers and other PPH bookie services.