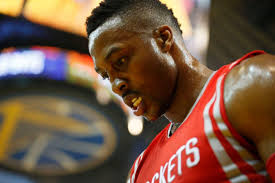 Dwight Howard said it wasn't easy to play with his grade 1 ligament sprain in his left knee, but knew he had to do so if his team had any chance of upending the Golden State Warriors on Thursday night. While play with a heavy brace, Dwight Ho=ward posted a double-double producing 19 points and 17 rebounds in the 99-98 loss in Game 2 of the Western conference finals.
"There's really nothing else you can say," Rockets coach Kevin McHale said of Howard. "He played his ass off. There's just nothing else you can say. The guy played really, really well."
Bookmakers Solutions and Sportsbook Software have the odds for the Rockets now at a whopping 50/1. Dwight came out for 15 minutes before the game and told the team he was in. Noticeably, there wasn't much lift and seemed to drag his leg throughout the contest. As the game went on though he seemed to warm up and become factor in the game. He scored on an alley-oop dunk pass from James Harden with 33 seconds left to bring the Rockets within 1 point.
He was defensive presence when on the next play Harrison Barnes went up for a lay-up and Dwight made him adjust his shot. On the last play Harden gave a pass to Howard which Howard immediately passed back to Harden, all the while being double teamed, clock expired and the rest is history. Now, the Rockets are down 2-0 going back to Houston fighting for their playoff lives. This marked only the second time Howard played over 40 minutes in this year's playoffs.
"I just tried to play as hard as I could. I didn't think about it at all," Howard said. "We'll see how it feels tomorrow. I just went out there and gave my teammates all that I could give them despite what happened with my knee."
Howard injured the knee in game one and tried to ply throughout that game until succumbing to the pain. He was listed as questionable for game 2 until he ultimately decides to play. He was working on post moves, dunking and 1-1 drills with assistant coach Josh Powell. Still, no one knew if he would play.
"Dwight played great," Trevor Ariza said. "He was huge for us. You would never know that he is whatever he is. He just came out and gave us everything he had. We're looking for that same effort in Game 3."