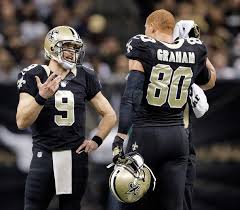 A few weeks ago online bookmaking solutions reported that Jimmy Graham was traded from the New Orleans Saints to the Seattle Seahawks, which looked to be a great deal for Graham.
What wasn't reported was the impact the trade had on his former teammates.
Quarterback Drew Brees was one player that was affected by the trade and is still in shock from the loss.
"Jimmy was like a brother to me," Brees explained to ESPN. "He was close to so many guys on the team. That part of it is something that people lose track of.
After 4 seasons together and several playoff appearances, it's understandable that Brees felt the loss, not only on the field, but personally as well.
"Not having a guy like that on the field with you is a difference-maker. Just the relationships that you build in the locker room, that's really the part that's the hardest, just because you're used to being around each other and the way your families do things together."
"You build a relationship and you become very close. But then, things happen and all of the sudden you're on a different team. It doesn't change the way we feel about each other. We're just not going to see each other all that often."
Of course trades are mostly out of the players' hands, and most players look forward to new challenges, and new teammates.
Brees himself has been part of the rumor mill about trades, but dismisses the rumors.
"I have a close enough relationship with everyone within the Saints organization that if something was going on, I know that I would hear it from them if there was any reality to it."
The Saints won the SuperBowl in 2009 with Brees at the helm, and online bookmaking solutions have the Saints as 50 to 1 to win next year's championship game on February 7th 2016. Last year's winner, the Seattle Seahawks are the top favorite at 6 to 1 odds with the Green Bay Packers at 15 to 2 and the New England Patriots at 8 to 1.
The Indianapolis Colts and Denver Broncos are also at the top of the list at 15 to 1 and 16 to 1.