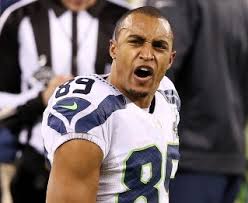 On Wednesday, Doug Baldwin was asked about what his thoughts were on Jim Harbaugh – who used to be his coach with the Stanford Cardinal – parting ways with the 49ers to turn into the head coach of the Michigan Wolverines. Fans and sportbook agents all over the country were wondering about what the WR for the Seahawks had to say, and were closely paying attention.
"I wish him the best of luck," said the player. "He's anxious to get that program turned around and do some great things at Michigan. I wish him the best."
And then many fans were taken aback when Baldwin said: "And go Buckeyes."
Baldwin and his former coach were not in very good terms at all – and didn't really talk to each other – when the WR was playing under him for the Cardinal. Before last year's NFC Championship Game, the player spoke about his plans to leave Stanford and the join the ranks of the Vanderbilt Commodores, and he completed all of the necessary paperwork to move to the school.
However, then his mother talked to him and told that had to stay and Stanford and rough it.
"Jim and I did not have the best relationship while I was at Stanford," said the WR last January, and the player's fans could see that they were clearly not getting along. "I was immature, a young athlete who thought I knew everything. We clashed at times. I was dealing with injuries and that also prevented me from performing the way I wanted to on the field. So a lot of things went into it.
"But I actually thank him now for the adversity he helped me through, so to speak. He made me who I am today, a better person and a better football player. It's nothing against him personally."
Well, if he meant what he said, then that seems to be a good sign that the player made peace with the coach, or at least tried to make peace.
Many fans were glad to see that some light was shed on the situation that took place between Baldwin and Harbaugh, and sportsbook agents hope that both of them get along one day without any problems. Perhaps they already do despite the WR rooting for the Buckeyes, and if that's the case, well it's the best thing that can happen, as animosity between coaches and players is never a good thing to have football.
More NFL News at IDSca.com the real Pay per Head:
Suh to appeal suspension for wildcard game against the Cowboys
Marc Trestman and Phil Emery were fired by the Bears
Giants co-owner Mara compares Odell Beckham Jr. to Lawrence Taylor
QB Brian Hoyer wants to start if he plays for the Browns next season
Bills QB Kyle Orton to retire from the NFL