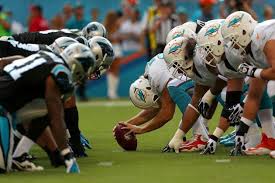 When the Carolina Panthers meet the Miami Dolphins on Saturday Night, both teams will want to show the league that they mean business and they are to be taken seriously. This match up for the moment will be a hard fought one, as pay per head bookmaking services are having this line to be EV, with some pay per head sportsbooks even giving a slight advantage to the Panthers. This will be a very physical and tough game, perhaps the most hard fought game this week in the NFL preseason.
The Panthers are on a mission to further establish themselves in the league and to make it back to the post season. Cam Newton has expressed that this team is eager to surpass what they accomplished last season when they were knocked out by the Seahawks in the Divisional Playoffs.
Carolina will be entering this game with a high morale after beating the Bills on week 1 on a comeback win, where the offensive depth chart of the Panthers had their moment to shine. However, this game will also bring Cam Newton and the first-team the opportunity to get back on track. Last week they were struggling with the Bills defense quite a bit. With the Dolphins having a tough defensive unit of their own, this game will be a good opportunity for the Panthers to fully test their offensive line once again. Very likely , Carolina will look to run the ball often throughout the game as RB Jonathan Stewart will be in the starting line-up.
After their loss against the Bears, pay per head bookmaking have the Dolphins as a possible slight underdog for Saturday's game. Last week they had some good moments against Chicago, with QB Ryan Tannehill looking confident leading the offense.
Miami's front office made a big investment to build a competitive team, creating an offensive line with several weapons of attack like DeVante Parker, Greg Jennings, Kenny Stills and Jordan Cameron. Plus, let's not forget the addition of the monster Ndamukong Suh to the defense. The Dolphins have a great team, with problems in their depth charts. There is an apparent considerable talent drop off between the first and second team for Miami. It was evident on their game versus the Bears and it might be evident against the Panthers.
Overall, this will be a physical game that will see good offensive competition. However, we think that the Panthers will win this game, probably late in the game. Expect this game to cover the spread and the Panthers to win 24-20.