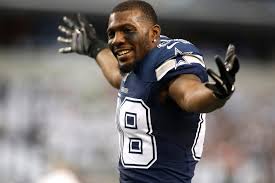 Price per head providers saw that it's been about a couple of weeks since WR Dez Bryant signed a deal with the Cowboys worth $70 million. Sure, his life will dramatically change, but the player believes that most other things will stay the same.
"It's no pressure, man," said Bryant. "It's no pressure. That deal don't make me. It don't make me. I play this game because I love this game. I don't give a damn about none of that. It's not going to change the way I play. It's not going to change the way I act. I'm here. Like, thank you, I can go buy me a home and now I'm able to take care of my family. Yeah, I love that, but as far as me performing on the field, like, I take full pride in that."
The deal turned Bryant into one of the league's most expensive WR's, and it had a guaranteed $45 million included.
As Bryant waited for the deal to me made, he did not fully participate in the program during the offseason, and only showed up on a few occasions. The player took part in a single individual session during the OTA's and participated in the last day of the team's minicamp in June.
The WR said that if necessary, he would have skipped games in the regular season in the case that both sides didn't reach a deal before the deadline on the 15th of July.
"Oh man, it was extremely hard, but at the same time, I was forced to be in a situation that I knew one day that would eventually come," said Bryant. "I never experienced it. I'm glad that we got it done and I'm here."
Dallas will closely check on Bryant's production early on during training camp, since the player wasn't available in the spring. They're not looking to give him a big workload yet. The player said that he was feeling good in and after the team's workout on Thursday, but did admit that he had to get used to practicing at a quick pace.
"I'm going to listen to the coaches," said Bryant. "Whatever they tell me to do and when it's time for me to go full throttle, I'll be ready whenever they think."
The player was picked for the Pro Bowl these last couple of years, and in the history of the Cowboys he's the only WR who was able to record 85 catches, 1,200 yards, and 12 TD's in three seasons in a row. Price per head providers saw that last year, Bryant made 16 TD receptions, leading the league.
"It's all about the work I put in," said Bryant. "I don't have a set goal. I really don't. You always want to be better the next year but … it's not based off of the numbers. It's the way you physically feel and mentally. Like the maturity."