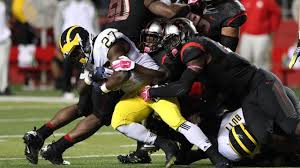 On Monday, coach Brady Hoke said that Derrick Green, Michigan RB, suffered a broken clavicle and won't hit the field for the  rest of season, to the disappointment of many fans. Now price per head agents would like to see if the player's replacements will be able to produce like he did.
Green, who throughout six games was Michigan's top rusher, suffered a shoulder injury on Saturday night in a run during the fourth quarter, in a game where the Michigan Wolverines were beaten by the Rutgers Scarlet Knights 26-24. The player's absence happens to be yet another blow to a Wolverines offense that was seriously struggling, and started the season 2-4.
"Derrick's attitude is very good," said Hoke. "He knows it's an expectation of him to help coach those young guys and coach guys being integral in what we're trying to get done. We're going to miss him."
The player was able to start in all six of the games played by Michigan, and through September, the player impressed with his skills on the field. Green recorded 471 yards and three TD's on 82 carries before he suffered the injury that put his season to an end.
The Wolverines will now turn to Justice Hayes and De'Veon Smith to see if they can step up for Green. This season, Hayes and Smith were able to combine for 383 yards and 66 carries so far, and they're well known in the football world as players with plenty of potential. When Rutgers beat Michigan, Smith impressed many fans by scoring his fourth rushing TD, a team best.
Drake Johnson could also get the opportunity to help out in the team's running game, and many fans believe that he would be a very good choice.
"I'm very confident in the three guys that will be doing most of the work at running back. I'm highly confident in what they bring and what they can do," said Hoke.
Price per head agents know that many fans can't wait for Saturday night to arrive, as Michigan is set to take on Penn State, in what will prove to be the third night game played at home in the history of the school's program.